Everybody Street by Cheryl Dunn
The New Yorker ran some excerpts from Cheryl Dunn's documentary on street photography last month, but now you can watch the entire thing on the film's website. My favorite sections are those with Ricky Powell, who explains how getting dumped by a girl made him a photographer, and Joel Meyerowitz, who describes how the streets suddenly became alive to him when he began street photography.
Waiting for the Future by Jens Olof Lasthein
This series of photos by Jens Olof Lasthein won Leica's Oskar Barnack Prize in 2010. I absolutely love the first image in the series. The story it tells and the tones and colors in which it tells that story are magnificent.
Why People Photograph by Robert Adams
This is a slim little book of essays by photographer Robert Adams. I've often thought that the best writing about art comes not from professional critics and academics but from true fans or people who actually practice the art form about which they're writing. Adams's book only supports that opinion. My favorite line: "[Photographers] may not make a living by photography, but they are alive by it."
Days with My Father by Phillip Toledano
Days with My Father is photographer Phillip Toldeano's loving remembrance of his father. It's beautifully shot and incredibly moving. To say anything more would intrude on the experience of encountering it for the first time.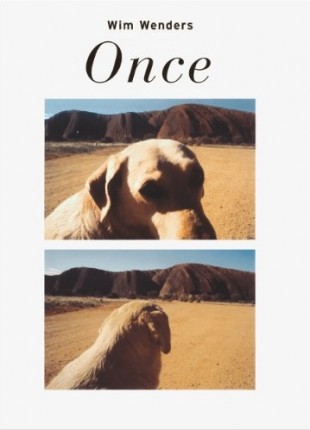 Once by Wim Wenders
I adore this book of photographs and text by Wim Wenders, much of which he shot while doing research for his films, which include Wings of Desire, Paris, Texas, and Buena Vista Social Club. Its title comes from the idea that photos don't create ongoing moments, to steal the title of Geoff Dyer's book; more than anything, they tell you that this happened once and will never happen again. Wenders concludes his volume:
"Once is not enough,"
I used to say as a kid.
That seemed very plausible to me,
"once upon a time."
But when you take pictures,
I learned,
none of that applies.
Then once is
"once and for all."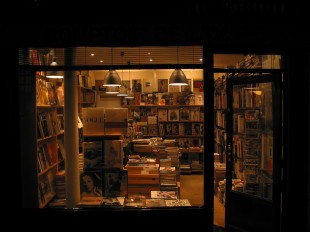 Comptoir de l'image
This store in the middle of the Marais in Paris could be notable for its collection of Vogue back issues alone. But it also happens to have an excellent selection of old photography books and is not to be missed if you're in Paris and care at all about visual culture, fashion, photography, or seeing.
Comptoir de l'image 44 rue Sévigné, 75003 Paris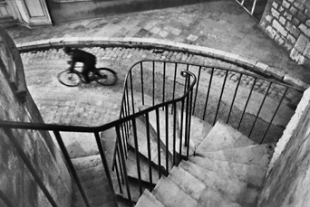 Henri Cartier-Bresson: The Modern Century
This exhibit, curated by Peter Galassi at MoMA in New York and currently in San Francisco, is an excellent retrospective of Cartier-Bresson's work—the earliest of which makes possible so much of what has photographically come after. In a time when photojournalism needs to defended against skepticism, this exhibit is, perhaps, the best argument we have for its importance and relevance. You cannot come away from it as anything but a believer in photography.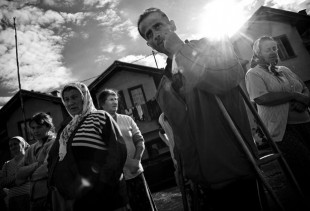 Andy Spyra Photography
There's a tough, gritty quality to Andy's photojournalism that is palpable and classic. Much of his work, including this photo essay in the Independent, comes from Bosnia.
Daniel Milnor On Shooting Film
I started shooting film last year, and I enjoyed this little video about Daniel Milnor's own experience with returning to film. Also worth checking out is Milnor's blog.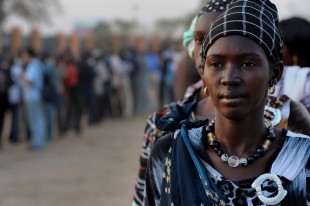 Independence for South Sudan
One of my friends was in Sudan to document the voting, as were several other photographers. The Boston Globe collected some phenomenal photographs here.
Annie Leibovitz: Life Through a Lens
At one point in this documentary, made by Annie Leibovitz's sister, Leibovitz recalls a cover shoot for Rolling Stone that she did with a group of musicians that included Bruce Springsteen and Jackson Browne. She lined them up against a white wall and took photos. When Leibovitz's mentor, Bea Feitler, saw the photos she berated her, telling the photographer that she could have done so much more with that group of people. How often is that the case—that we could have made so much more out of what we had? One other thing I noticed in this film is that Leibovitz uses her Leica M6 for almost all of her personal and family photos. I recall having seen a retrospective of her work a few years ago at the Legion of Honor in San Francisco. In it, there was a photograph of Susan Sontag in Seattle, on her way back to New York to die. It's reproduced here in this documentary, and it's still one of the saddest photographs I've ever seen.
Watch the trailer here.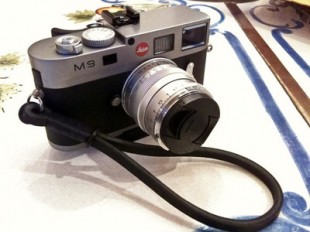 Gordy's Camera Wrist Straps
If you're looking for a wrist strap for your camera, look no further than those made by Gordy. They're simple, well-made, and strong, and they age well. What more could you want? Oh yes, they're reasonably priced too. They tend to work best with lighter cameras like rangefinders and micro four-thirds cameras.