A Case of You by James Blake
We first heard this Joni Mitchell cover on Parenthood and couldn't stop listening to it for days. Blake's album got a lot of interest this year and made many other best of lists, but it's this one haunting song from his EP to which we keep coming back again and again.
Buy Enough Thunder by James Blake
The Magic Place by Julianna Barwick
Soundscape is a word that I hear often but rarely use. However, it's the first word that came to mind when I listened to Julianna Barwick's beautiful album, The Magic Place. It is best listened to on a pair of great headphones or speakers.
Hello by Martin Solveig
We think this song is too catchy to not sing and its video too funny to not induce laughter. Reminiscent of Wes Anderson's work, it's the best music video we've seen this year.
Polaroids by Marion Dubier Clark
I was at the Bibliothèque nationale de France the other day to see the Gallimard exhibit and afterwards stopped by the gift shop. There I found some postcards of photos by Marion Dubier Clark. I especially liked the above photo, "Course" from Le Rozel. It reminded me of a line from Katell Keineg's song, "At the Mermaid Parade": "Kicking into the waves / with the last children." It's one of the most evocative lines I heard last year, and "Course" pairs perfectly with it. The photo appears in Clark's book, 100 Polaroids.
Download 100 Polaroids by Marion Dubier Clark.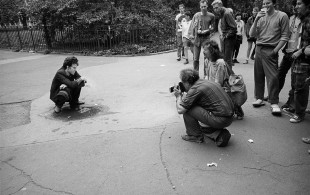 Tom Waits and Robert Frank
I love instances when two great artists from different disciplines come together, and this photo shoot of Tom Waits conducted by Robert Frank is a perfect example. Frank was shooting Waits for his upcoming album, Rain Dogs,which contains one of my favorite songs of all time, "Downtown Train." It's so evocative of everything romantic I've associated with New York City since I was 20 or 21, and, in a way, this photo only adds to that feeling. In the text that appeared alongside it in the Sunday Times Magazine, Waits recounts the experience of posing for Frank:
I was trying to imagine myself as a real New Yorker, and I was having a hard time. My wife was pregnant with our second child; we were living down on 14th Street over a Cuban-Chinese restaurant. But at that moment, I was busting at the seams that Robert Frank was photographing me. I just thought, Shoot me now. The record was called Rain Dogs, so we were expecting to find a rainy day, which we did not find. But we found the one rain puddle in the whole park, and I'm kind of down there like a dog. Maybe that was the idea: I'm gonna get down on the dog's level, and then Robert would get there at a dog's level with me. Anyway, I don't know why people in music seem to want to squat down. Maybe we just want to feel close to the earth. I'm still down there, actually. I'm squatting right now.
What They Were Thinking – Tom Waits and Robert Frank (New York Times)
Collapse Into Now by R.E.M.
R.E.M. was my favorite band when I was growing up, and that means, in some way, they'll always be my favorite band. However, it's clear that they haven't quite been the same since drummer Bill Berry left the band in 1997. Although I listened religiously to the albums the band released since then, none of them felt as complete as the ones they released from about 1983 through 1992. So, I'm thrilled to report that R.E.M.'s new album feels organic and complete as some of the band's best work. It comes out on Tuesday, March 8, 2011. Get thee to a record store like it's 1990.
Listen to Collapse Into Now on NPR.org until March 8
Buy Collapse Into Now
Lorene Scafaria
I normally refuse to download music as I much prefer the quality of CDs to that of MP3s. However, I couldn't seem to find Lorene Scafaria's Laughter & Forgetting on CD, so I got it from iTunes. I recently heard "We Can't Be Friends" at the end of The Romantics and had to hear it again and again.
There are places I remember
This blog adds about four posts every month, each a miniature essay about a song and the place that song mentions. I discovered this blog while searching for writing about "Oxford Street" by Everything But the Girl. It's a wonderful song that evokes adolescence with near perfection. And although the blog doesn't quite measure up to the song, it's still worth a visit to see how it uses music as a starting point for often informative discussion of places.
Katell Keineg and The Gulf of Araby
I first heard "The Gulf of Araby" on Natalie Merchant's live album in 2000, and was immediately struck by the sadness and poetry of Keineg's song. It's epic in its scope, unlike pretty much every song you'll hear this year. When I moved back to the US in 2001, I immediately bought all of her albums and listened to them, like any new albums back then, for a couple weeks before setting them aside for a while. A while turned into years—until my friend Darcy wrote a cover story about Keineg for the New York Times Magazine in 2006. She was finally getting the recognition she had so long deserved, I thought at the time. But the next year NPR ran a story titled, "A Long Career on the Brink of Fame." The popularity for which she seemed destined, especially after the Times profile, never arrived. But that's her potential audience's shortcoming, not hers.
Imogen Heap Live
I'm blown away by the way that she builds her songs live.